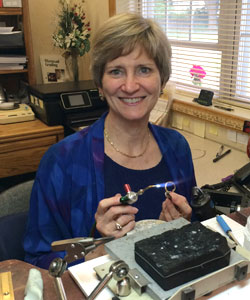 THE JEWELER :
If you asked Cindy Crounse how she came to be a jewelry designer, she'd tell you that she made a decision in college not to be so practical and, instead, to do what she loved. She never looked back.
After graduating from the University at Albany with a degree in studio art and jewelry metalwork, she apprenticed two years with a manufacturing jeweler, then joined a new custom jeweler in the area where she stayed 15 years before establishing Refined Designs in 1992. Over 40 years in this field has included advanced courses in wax carving, customer service, gem setting and gemology all over the country.
She is most proud of her Graduate Gemologist degree, the highest award bestowed by the Gemological Institute of America. It is respected internationally as the jewelry industry's premier educational organization and developer of the international diamond grading system. She is highly qualified to work with diamonds, colored gems and their grading. Refined Designs has its own gem lab and the knowledge to accurately identify gemstones for its customers.
The Jewelers of America created the first program of its kind to establish a national standard for bench jewelers. Cindy completed a proctored 18-hour bench test and a 2-hour written test and was awarded the title JA Certified Senior Bench Jeweler, one of only TWO in New York State.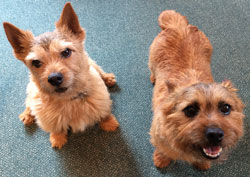 OUR OFFICIAL GREETERS:
Cindy's able assistants, Alex and Katie, are Norwich Terriers who are always eager to go to work in the morning. Their favorite thing is food (of any kind, including spinach, parsnips and the occasional legal correspondence) but a VERY close second is attention from customers, and kids just make their day!